Sketch Card – Purple Frog
on
March 13, 2018
at
4:29 PM
Today I sketched out a frog. I did not know how I was going to color it. Most people would say color it green. Or make it look neat by making it a poison dart frog.
Well I closed my eyes and randomly grabbed a marker. Hmmmm…. Purple. It continued on like that until I got to the shading part.  It ended up being a mixture of markers, colored pencils and pens.
It did not turn out how I expected. That is what could possibly happen if you blindly grab colors. It was nice to just play around and not care about how it would turn out. What do you think about it?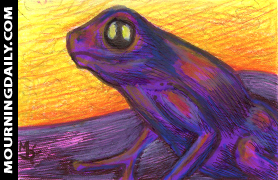 Please follow and like us: